Rebel Yell: Nail Stamping Starter Kit - Plates, Polishes, Scraper, & Stamper
Description
Flowers and french tips aren't for all of us. For some of us, "feeling pretty" means throwing ourselves into the mosh pit, flipping through comic books, and burning our retinas with hours and hours of gaming. Our Rebel Yell Nail Stamping Starter Kit gives you everything you need to get loud with your nail art.
The Goods:
Level Up (m016) nail stamping plate
Radio Riot (m017) nail stamping plate
7ml bottle of Yummy Gummy (B211) stamping polish
7ml bottle of Mirror, Mirror (B220) 

stamping polish

1 clear rectangular Ice Cube stamper
Maniology mini scraper card
Express your inner fan girl with polyhedral dice, pixel sprites, and comic book blurps or rock & roll all night with tombstones, crows, and music themed designs. These stamping plates feature a huge variety of buffet, full nail, and accent style graphics to choose from. Now, sharpen your claws and get stamping!
For nail stamping tips & tricks, we've got your back! Visit the Nail Academy page on our website for tons of easy-to-follow instructions and video tutorials.
Details
Customer Reviews
Write a Review
Ask a Question
Filter Reviews:
images
plate
stamper
stamping
colors
everything
polish
designs
polishes
stamp
02/17/2020
Jen
United States
Great starter set
I'm incredibly pleased with this starter set. The quality of the polishes, stamp, and plate are all phenomenal, and I was able to pick up stamping super quick. There's still a little but of a learning curve, but it's been a lot easier than I was anticipating! I've had no issues with the ice cube stamper after following the instructions (washing it with dish soap before first use). I will say that I wish the base and top coat came as part of the set -I bought them separately, but I think getting started without them would have been really difficult. For beginners, the mani mask and tweezers/cotton grabber are probably also great things to add on to avoid messes. All in all, a great set to start up stamping!
02/16/2020
Anonymous
United States
Great stuff but bottle leaked
I love the plates and polishes. Very opaque and nice colors. But when the box arrived one of the polishes (the lilac color one) had leaked a lot. Kind of disappointed with that.
02/15/2020
Kelly
United States
Loved it!!'
Everything worked very well. I also bought the no smudge top coat and it works amazing. It has a very strong and funny smell but is well worth it, it also dries very quick compared to others I have used in the past. The black and white polishes were very pigmented which is another up side to this brand. My stamper work the very first time no issues picked up the details well. Definitely will be buying more from Maniology!!!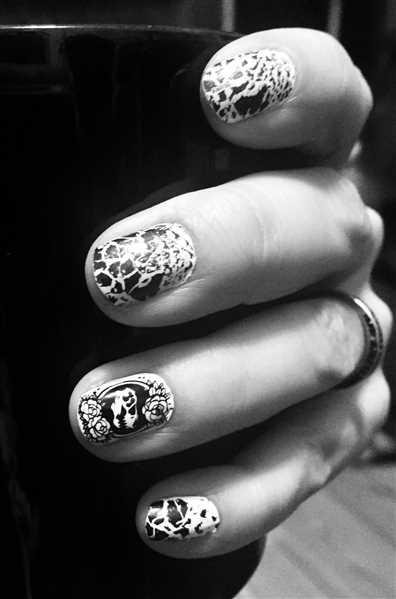 02/13/2020
Ashley P.
United States
Absolutely great
I feel the stamping plates give you the perfect amount of polish every time, the images transfer perfectly and I love every image on the plates I have bought! It's like the images on the plates goes perfectly together and I am always finding some thing new about my plates that make me even happier I bought them. The only down side was that I had to buy a different stamper because the cube one that came with it was absolutely not working and I tryed a lot of difrent ways.. it was just to had to make it pic up the image. Using my other stamper I bought separate works perfectly with my plates so problem solved! I still give it 5 stars because these plates are amazing and you can't find these fine quality plates for this cheap anywhere else and plus u get 2 polishes as well and I love that!!
01/23/2020
Michole
United States
Finally! Successful stamping!
So excited I got this kit. I got it as free, just pay shipping, and for the first time ever I've actually figured out how to stamp! I've tried so many times before and just got frustrated and gave up. Not sure what the difference is but it's so easy and fun! It's my new hobby and I love it!