Darkest Night: 3-Piece Metallic Stamping Polish Set
Description
Details
Our 3-piece Darkest Night stamping polish collection bottles up the mysteries of the night. Each polish is heavily pigmented with a cool metallic finish. This set of rich metallic colors stamp boldly over dark polishes and looks amazing as a base color for your favorite design. Set includes: Cauldron (B307), Evil Eye (B308), and Poison (B309).
We love to hear from you. Show us your manicure masterpiece and let us know what you think in the review section below!
Customer Reviews
Write a Review
Ask a Question
Filter Reviews:
colors
polishes
stamping
website
blue
nails
person
base coat
green
three
09/24/2020
Sarah M.
United States
Deep rich colors
These are not what you would expect from a metallic or even from looking at them in the bottle. These colors are solid but with a shine. I'm glad I got these, they're beautiful deep rich colors.
09/24/2020
Erica
United States
Not like the sample stamps shown with product
Not at all shimmery, and the blue is barely even metallic when stamped. Nice, dark, very opaque colors. But if you're looking for something shimmery, try Celestial or look elsewhere. I haven't yet tried them as base colors, but I do like some of the examples others have shared. Bottom line: I wouldn't have ordered these knowing how they really stamp, but I'm not unhappy enough to return them either.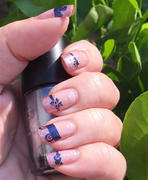 07/29/2020
Cat D.
United States
Amazing colours
These colours are incredible! I think they work better as a base coat than for stamping, at least in my current (summer) climate, as they do dry pretty fast, but the texture is great and the colours are amazing. I thought my favourite would be Evil Eye, but I'm actually super into Poison right now. Cauldron makes a great base coat for any celestial-themed stamping, such as the stars and starry flecks on the m055 plate!
07/18/2020
Jeremy D.
United States
Darkest indeed
These are all very very dark (stands to reason I suppose). The red and green are beautiful and shiny and intense. The blue I find to be rather dull for a metallic—only vaguely shimmery, and a more muted color. None stamped as bright as the product picture, but they will be good as alternatives to black for stamping outlines.