CYO Design Contest 2019: Layered Flowers (m094) - Nail Stamping Plate
Description
Details
Aww, how sweet! 💐Thank you for giving us these beautiful flowers. This stamping plate features layered floral patterns created by some of our Create Your Own 2019 Plate Design Contest winners. Congratulations to the winners featured on m094:
Shalene M. - CA, USA

Mayra Q. - CA, USA

Julia B. - Wedemark, Germany
Teila R. - Belleville, Canada

Emily B. - OR, USA
Customer Reviews
Write a Review
Ask a Question
Filter Reviews:
plate
flowers
stamping
nails
designs
everything
colors
products
time
layer
09/27/2020
Jenni .
United States
Fun floral plate
This plate is really fun to play around with! Using all three layers was a little tricky. I recommend using just one or two. I like that they give you the three layer option though. It leaves a lot of room for creativity and allows you to do different looks. I used this plate to try reversed stamping for the first time and I really liked the way it turned out. Side note. I find Maniology plates, in general, to be the easiest to use out of all the companies I have tried. I highly recommend!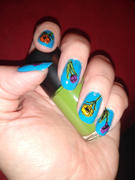 09/19/2020
Catherine G.
United States
Patience!
I found it looked great just using 2 of the 3 layers... it's hard to match things just so but this plate will look cool even a little off center.
09/02/2020
Sahra W.
United States
Very Tricky
Beautiful designs but I found it Extremely difficult to get the bottom right stamp to line up nicely. (I anticipated a little bit of coloring outside the lines but this was way off). I did eventually end up with a manicure I was happy with but it took me 4 days and had to redo several nails several times. I am thinking about doing the bottom layer as a shadow and then coloring in a reverse stamp for the top layer.
08/31/2020
EP
United States
08/27/2020
April R.
United States
Flirty flowers
I adore this plate. I'm new to layered stamping (and stamping in general), so it took me a while to get things lined up just so. That being said, I'm so happy with everything I can do with it. PROS: The ability to layer, especially for those of us who are ready for reverse stamping. The ease work which I could isolate different parts of the plate and remove it from the stamper without fear of taking the whole design with it. The flowers are delicate and don't look cartoonish. CONS: Layering three stamps is difficult. Finding three colors that contrast enough to be seen in the final result is also difficult.