The Monocle Stamper: XL Round Clear Stamping Tool - Clear Stamper Collection
Description
Details
The Monocle Stamper is a sight to see! The Monocle is an XL sized round stamper (1.5-inch diameter stamping surface) with a crystal clear silicone stamper head and clear acrylic handle. Not only a sight to see, but this stamper is a great polish saver since you will be able to place your design the way you want it on the first try. And, because you can never have enough of them, we added on of our clear, thin credit card polish scrappers!

*TAKE SPECIAL CARE*: These stamper heads take a lot of love to create, make sure to continue that love with these helpful care tips: 1) Do not prime the clear head. Sanding will cause haziness. Instead, wash with soap and water before first use and allow to air dry.  2) Use our Sticky Stamper Station, a lint roller, or scotch tape to remove polish from stamping heads. Using 100% acetone and other nail polish removers may cause the head to look cloudy. 3) Do not over squeeze or pinch the stamping heads hard, it may cause the heads to tear!
Please note the handle is made with acrylic and will be permanently cloudy if it comes into contact with acetone.
Customer Reviews
Write a Review
Ask a Question
Filter Reviews:
stamper
images
nails
size
Maniology
reverse stamping
design
monocle stamper
head
polish
10/22/2020
Cat
United States
How Do I Love Thee?
Let me count the ways... (1)If you are having trouble with a plate, and you're about ready to throw it out the window, be sure to try this on it. This baby picks up when others fail dismally. (2)It's soft and squishy, not so much as a marshmallow stamper, but significantly more so than your usual clear stamper. (3)Its large size makes rolling a breeze to do smoothly and evenly, ensuring perfect transfer to your nail. (4)It requires just about zero pressure, aside from the weight of the stamper itself. (5)The detail you get in design transfer is razor sharp and clean, picking up even the most minute features like pin dots. (6)You can easily see your target for perfect placement every time. (7)Because the holder is so short, you don't have to guess if and when you have lowered it enough to make contact with your nail. (8)It fits the hand perfectly, and discourages the "death grip" I get on smaller heads. As an added bonus, this is quite possibly the best stamper around for beginners, because you're all but guaranteed success right from the jump. If there's any fault to be had, it's that every time I place an order, the head refills are always sold out! I hyperventilate in dread fear that something will happen to my current one. I never want to be without my Monocle Stamper. Ever.
10/19/2020
Hannah W.
Australia
Easy to roll/rotate in your hand to align designs
I've been using the ice cube, up until recently when I grabbed a monocle with my rewards points! This is easier to use when I am stamping my dominant hand, as I always end up picking up the design with my dominant hand, and having to pass the stamper over. I never seem to pass it facing in the right direction, but with the monocle I can just roll/rotate it in my hand to align the design correctly. Also good for layering for the same reason, its easy to control/rotate the positioning. So this one has become my main layering/simple design stamper. I still have/prefer my collection of ice-cubes for reverse stamping though - each has their ideal uses.
10/12/2020
Alexandra P.
United States
Awesome stamper!
I absolutely LOVE this stamper! It's great. It's been the only stamper I haven't had to prime that worked right out of the box!! It's super crystal clear for perfect image placement. The only reason for 4 stars was that sometimes the stamper head comes out of the plastic piece, which can be frustrating at times. However, it hasn't made an impact on my manicures, and in my opinion, is the best stamper I've used! Love it!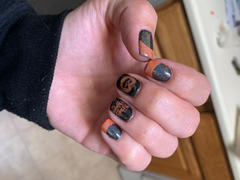 10/07/2020
Terri L.
United States
Monocle Stamper
Great pickup. Sticky. Easier for lining up images for stamping double. I love it.
10/07/2020
Jessica S.
United States
Great stamper
I love this stamper