9pc Mixed Sized Glass Manicure Nail Buffer Files
Description
Details
This large, 9 piece set of glass nail files are a DIY manicurist dream come true. Super durable, these files will be in your nail tool kit for a long time. These files come in 3 sizes and the tips are either rounded or pointed. The pointed tips are great for cleaning out/smoothing the underside of your nails. Plus, the ombre colored handles for these files make them enjoyable to look at as well as a very effective nail tool.
Customer Reviews
Write a Review
Ask a Question
Filter Reviews:
variety
colors
size
Files
sizes
someone
variety pack
filing
purse
home
They are very comfortable to
They are very comfortable to use. They could be a little sharper.
Great Files
I love that there are different sizes. I keep most at home, one in my purse and a few at work. I love how there are different sizes so you can store discreetly and I love the variety of colors. I'm impressed with how well they file your nails and there isn't any snags or tears on the nail.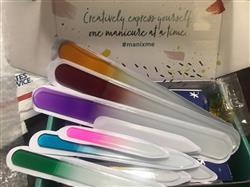 Love the variety!
As someone who's really never used files (much less glass files) before, I love these! They work really well, and having the different sizes lets me get more detailed in my filing. The variety pack also lets me keep one in my purse, in my car, at work, and one of each size in the nail painting kit.
Glass Files
I foolishly bought one of these at Salem's Jewelry before I knew about Bundlemonster selling them. These files are glass and assorted grit They are beautiful and last forever (unless you break them). These you can decorate yourself and make them your own. These are on of my favorite things.