300pcs Full Cover Nail Tips for Extension in 15 Sizes - Short Almond
Description
Details
Get a chic and modern look with our Short Almond Press-On Nails! This shape elongates your fingers and works well with both casual and formal outfits. This box of pre-buff 300pc press-on nails features 15 different sizes, so you can find the perfect fit for your nails. The flexible tips provide a secure fit and natural appearance for a flawless manicure. These nails are easy to apply and can last up to two weeks with proper care, ideal for any nail lover who wants to stay on-trend.

• EASY TO USE: The flexible tips are easy to trim, apply, and paint. These are lightweight and comfortable to wear, just as convenient as your natural nails.
• FUNCTIONAL: Provides a quick and easy solution for nail styling, with pre-buffed tips for easy application.
• SIZE OPTIONS: Offers 15 different sizes so you can choose the most suitable size to fit your nails.

Instructions:
1. Prep and clean your nails. Please ensure they are spotless with no oily texture so that the adhesive tabs stick correctly.
2. Select the appropriate nail tip size for each of your nails. The nail tips should sit snugly on your nail bed.
3. Peel off the adhesive tab and stick it on your nail bed.
4. ⁠Place the nail tip on your nail from the back edge to the front, and lightly press it to expel the bubbles.
5. Repeat on the rest of your fingers and design, paint, or stamp to your liking, just like your natural nails.

*Adhesive tabs not included*

"5 simple steps" for nail stamping
1
Paint a generous amount of stamping polish onto a design.
2
Scape off excess polish with the edge of a scraper card, holding it at a 45 degree angle.
3
Quickly, roll the stamper head onto the design.
4
Transfer the stamp onto your nail, using a smooth rolling motion.
5
Finish with a layer of Smudge Free Top Coat
Customer Reviews
Write a Review
Ask a Question
07/20/2023
Anonymous

United States
Lasted a week
The video says the only last a day or two but I wore these for an international business trip and they lasted the whole time! It's easiest to paint them while still attached to the full set and was hard to paint if they broke off separately.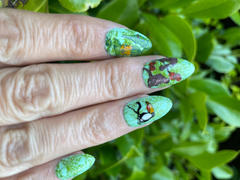 06/21/2023
April J.

United States
Too Big - length and thickness
I liked that I was able to paint the nail tips before putting them on as my right hand is always painted worse since I have to use my left hand. But they were really thick and it was so obviously press on nails - part of that might be needing more practice for the size and placement. I also wish they were shorter.