Mani Mask - Latex-Free Cuticle Protector
Description
The process of artistic creation is messy and spontaneous! We want to do more of what we love, and we sure don't love cleaning. Our Latex-Free Mani Mask Liquid Cuticle Protector will help to make clean-up time quicker and easier. Each handy little bottle comes with 13ml (0.4 fluid ounces) of liquid cuticle barrier. This latex-free formula doesn't come with the offensive smell of latex-based cuticle protectors and is safe for those with allergies and sensitive skin. Create the manicure of your dreams using chunky glitters, water marbling, full nail stamping, paint splatter, and any other technique you want without having to worry about messy hands.
To Use:
1) Paint a coat of Latex-Free Mani Mask formula onto your cuticles and the surrounding skin for instant mess protection.
2) Wait for the formula to dry until it's transparent.
3) Then, create your amazing nail art as you normally would. Be as crazy and messy as you like!
4) Finally, peel the Mani Mask away from your nail and--voila! The mess is gone! A carefree expression is yours.
Details
Customer Reviews
Filter Reviews:
brand
bottle
stuff
layer
layers
best
cuticle protector
skin
formula
gradients
11/10/2019
Jessica G.
United States
Quality products
Never used a cuticle protector before and even though i was a bit unsure of how to apply it did wonders in protecting my surrounding skin from my nail art messes very pleased with it
11/08/2019
Jaylene H.
United States
Yes!
I love using this mani mask! I can finally stop having to use tape and acetone to clean up any nail polish mess especially when doing gradient nails!
11/07/2019
Maryam H.
Canada
LOVEEE!!!
I have very sensitive skin, this did not irritate whatsoever and had no nasty smells!
11/03/2019
Kimi S.
United States
Good Option
This is good for those with a latex allergy like me, and it works fine. The problem with it is that it's a bit of pain to get on and drying takes a bit too long. So I like using it messy nail art like gradients or heavy all over stamping design, or polish I know that stains. Other than that I just use tape to clean up stamp image before stamping, Q-tips (you can get different sizes in variety packs), and clean up brushes. I would have liked to use more for when I apply base polish to keep that less messy but unfortunately it gets stuck underneath and pulls off portions you want and it adds to the drying time too much. So I recommend using it as necessary not always.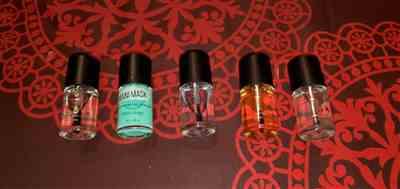 10/29/2019
Allison H.
Canada
Easy to use & odor free!
This is a very easy product to use! I was a little concerned with how thin and liquidy this is, but quickly realized it didn't matter! I brushed on a thin layer and let it dry completely- it has to be completely dry! Then stamped and sponged and it came off so easily. I did try single layers of the mask and multiple layers of it- and realized the thin layer works just as well (or better) as a thicker layer. It doesn't peel like all the videos we've watched of the latex products. It isn't as stretchy or goopy, but it is just as effective! The fact that it is latex free is a great feature. There is no worries of the allergic reactions. This is essentially scent free as well which is an amazing bonus!