Mani x Me December 2020: Retrograde (B363) - Duochrome Light Blue Stamping Polish
Description
Details
Polishes this cute appear only once in a blue moon! Retrograde (B363) is a powdery duochrome blue that shifts with subtle flashes of milky silver for out-of-this-world shine. With concentrated pigments and subtle sparkle, this polish offers great contrast over a dark base. 
BLUE MOON: A gorgeous duochrome light blue polish with hints of silvery shimmers.
COVERAGE: This color is a specialty finish and will require 2-3 coats for full coverage if using as a base polish.  
5-FREE AND CRUELTY-FREE: These stamping polishes are only tested on our own nails before yours.
GET INSPIRED: Check out our

 

Nail Academy

 

or join us on Facebook, Instagram, and YouTube for tips, tricks, and inspiration.
WARNING: Keep away from open flames. Adult supervision for ages 6 and under. *0.4oz per bottle*
Customer Reviews
Write a Review
Ask a Question
03/31/2021
Donna S.

United States
Not good for stamping or as regular base polish
I got this in my monthly mxm box. This is not good for stamping or as a regular base polish. I don't buy these stamping polishes to use as regular polish anyways. But, if it were used as a regular polish, it would need 4-5 coats to become opaque. Having to put so many coats of polish on my nails is ridiculous. As for being a stamping polish, I'm not sure why it would even be labeled for stamping because it can only be seen when light reflects on it from an angle. So, you'd constantly be having to try and catch light to reflect on your nails to be able to see it. It's also not really a duo chrome, as it looks in the bottle, unless it was really opaque. It's just too thin, with no opacity. I just didn't like this polish, and probably won't use it since it is not opaque, nor does it show/work as a stamping polish should. I added three pics in a collage. One pic shows the polish in a well lit room, but with not light angle. The other two pics show stamped images hitting/reflecting light from an angle. Each pic is labeled.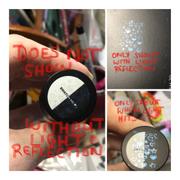 Hi Donna, sorry to hear that you did not like our Retrograde polish. Our duochrome stamping polishes offer great contrast over a black, these duochromes are to be used over a dark base. Please reach out to us at support@maniology.com for assistance. We do stand behind our product 100% so if you are not satisfied with your purchase, you have 365 days to return the item for a refund or exchange.
03/20/2021
Tamara L.

United States
This is one of my all time favorite polishes-just buy it, you will thank me later <3