White Self-Adhesive Nail Polish Swatch Dots - Set of 120
Description
Details
Unorganized nail polish collection? We've got you covered! Our Self-Adhesive Nail Polish Swatch Dots in White color come in handy when storing and organizing your most precious collection. This set of little swatch dots can be painted and stuck onto the top of polish bottles, keeping it organized and making each bottle prettier.

Available in 2 colors:
1. White Self-Adhesive Nail Polish Swatch Dots - Set of 120 (tool-047)
2. Clear Self-Adhesive Nail Polish Swatch Dots - Set of 120 (tool-048)
• CUTE & FUNCTIONAL : A round design with a curved surface and flat back, which is very convenient to stick on the nail polish bottle tops to easily distinguish actual color.
• SEARCH NO MORE : Save time and find the color you're looking for quickly!
• EASY TO USE : These little swatch dots are easy to paint on and stick onto the top of polish bottles. Choose from two options: white or clear transparent to reflect the original color of every nail polish.
"5 simple steps" for nail stamping
1
Paint a generous amount of stamping polish onto a design.
2
Scape off excess polish with the edge of a scraper card, holding it at a 45 degree angle.
3
Quickly, roll the stamper head onto the design.
4
Transfer the stamp onto your nail, using a smooth rolling motion.
5
Finish with a layer of Smudge Free Top Coat
Customer Reviews
Write a Review
Ask a Question
Filter Reviews:
color
Swatch Dots
contents
paints
crafter
bottle
ANYONE
saver
collection
dots
02/16/2023
Angela M.

United States
Easy to use and convenient
The way that I store my polishes wasn't working for me before I got these dots. I would have to pick up and look at the contents of each bottle to find the color I was looking for! It was time consuming and frustrating, to the point that it was almost not worth it to stamp. Using the dots was easy and now I know which color is which!
01/21/2023
Maureen L.

New Zealand
LOVE THESE!
I bought the white ones. They arrived a couple of days ago and I've already finished organizing my collection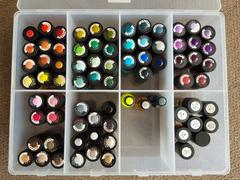 08/14/2022
Marsheleen C.

United States
Time-saver Swatch Dots
I absolutely love, love, love these Swatch Dots. They are a time saver. They show the true colors of the nail polish where the "Swatch Here" stickers don't show the true color or enough of the color to be able to tell what it is. I highly recommend these to anyone that has nail polish or any crafter who has paints