Artist Collaboration: PolishedJess (m057)
Description
Details
Get lost in the stacks with @polishedjess! We've collaborated with our nail blogger and bibliophile, @polishedjess to help you express your love for all things literature. Bookshelves, owls, and pages piled high--this plate features tons of awesome full nail, accent, and buffet-style designs to bring out the bookworm in you.
We love to hear from you! Show us your beautiful manicure, give @polishedjess a shout out on Instagram, and let us know what you think in the review section below!
Customer Reviews
Write a Review
Ask a Question
Filter Reviews:
plate
nails
designs
images
books
reading
Love
stamps
Maniology
mani
11/16/2020
Tyn .
United States
I LOVE LOVE LOVE this plate
This plate is totally awesome! I am an huge reader and soothes one speaks to me. While I am a 50 year old woman I love the YA genre as I am a kid at heart. But recently got into Historical Fiction of Diana Gabaldon so I love to stamp this and reverse stamp the books to be the colors of the Outlander series. I plan on doing the Fraser plaid background with the books over the top very soon. So this is a plate that will be used over and over. And as it says.... I like big books and I cannot lie!
R
10/08/2020
Rachel
United States
Bookishly Fun
These are some great book designs for a book reader. My mom loves books so I got this plate with her in mind. She actually has longer nails unlike me (I can't stand long nails so I always keep mine short) so her nails are much more conducive for stamping and nail designs. I love the pile of books and how they give the option for both long and short nails. Can't wait to try the shrinking technique for that big book case!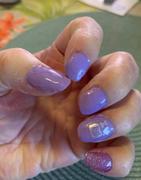 09/26/2020
Anonymous
United States
09/17/2020
Nicole .
United States
Reader Vibes
This plate is so cute for anyone who likes reading. I work at an elementary school and the kids loved my mani with all the books.
09/06/2020
Carrie
United States
cute and fun
I just love, love, love this plate. It was sold out twice before I was finally able to get my hands on it. I love books (friends call me a book hoarder). I just live and love to read. I'm usually reading upwards of 4 books at the same time. finally something to express my love of reading. and I just love how cute the owls are as well. They are one of my favorite winged creatures. So, two loves on one plate. I've done one mani with it already and I want to do another one with reverse stamping. It's so versatile and and fun. LOVE it! The real fine print is a little tough for me to pick up but it doesn't stop me from using this plate.